3 types of Coeo business phones and which phone is right for you
November 11th, 2022 | 5 min. read
By Jordan Pioth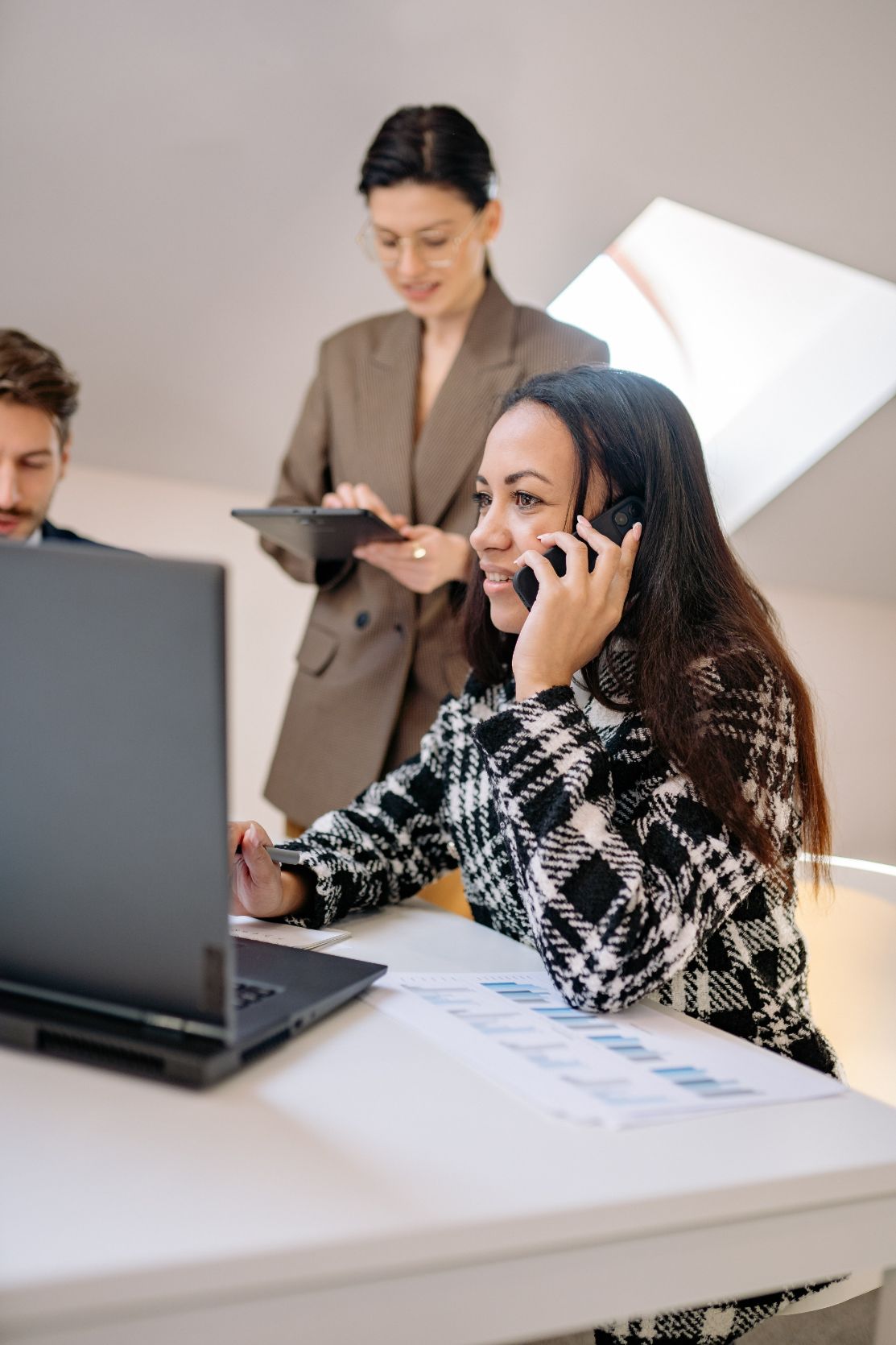 If you're looking to purchase a UCaaS service from Coeo, you may want to know the business phones that Coeo offers. If you do not know the kinds of phones that Coeo offers, you may miss out on opportunities to enhance your calling service.
These phones can help make your UCaaS service more efficient. Knowing the types of phones Coeo offers allows you to decide which phone is best for your business if you choose to use any phones at all.
Coeo has deployed thousands of phones and knows how vital a good phone is to a call service. We want to make sure you have all of the information you need on Coeo's business phones so you can make the best decision possible for your organization.
By the end of this article, you will know what platform Coeo uses, the three types of business phones Coeo offers, and which phones are best for your organization's needs.
Coeo's UCaaS platform
Coeo offers four different UCaaS seats that vary in price and features. Two of the more premium seats Coeo offers, the MaX UC seat and the Premium seat, unlock a mobile and desktop app that your organization can leverage for its UCaaS service.
Coeo's UCaaS uses the MaX UC app that can be downloaded on mobile and desktop. MaX UC is a platform offered by Metaswitch, a partner of Coeo.
With these apps, you can use computers and cell phones as softphones instead of desk phones. However, if you still would like to use a desk phone for your UCaaS service, you can use any of the three types of phones offered by Coeo.
Coeo phone options
Coeo sells various different models of phones most of which are produced by Polycom. The three types of phones that Coeo offers are wired desk phones, wireless phones, and conference sound station phones.
Wired desk phones
Coeo offers more desk phones than any other kind of phone. There are multiple different wired desk phones Coeo offers that can cater to the needs of your business.
Polycom VVX series
The VVX series model is a phone offered by Polycom which develops video, voice, and content collaboration and communication technology. Polycom produces some of the best phones on the market and has been highly recognized for years.
Coeo offers several different models from the Polycom VVX series. The VVX model produces high voice quality and comes with a 3.5" color LCD screen.
Poly HD voice is also included with the phone which delivers more lifelike voice quality. The VVX model is also headset compatible which allows you to use a headset with the phone and 3-way audio conferencing among other features.
Polycom CCX series
The CCX series is another Polycom phone model that is very similar to the VVX series. The CCX series is an upgrade to the VVX series and some of the higher-end models from this series include a camera that can be used for video conferencing.
The CCX series has most of the same features the VVX series has with a few additional features. One feature that the CCX series has that is different from the VVX series is that these models have a touch screen.
Polycom Edge series
The next-gen Polycom Edge series comes with a slimmer phone that leverages hundreds of Polycom phone features. One feature that the Edge series has is the ability to connect to mobile phones via Bluetooth.
Yealink SIP series
While Coeo prefers Polycom's phones over phones offered by Yealink, Coeo does offer a few phones by Yealink. The Yealink SIP series is more affordable compared to the prices of Polycom, however, the quality of voice is a tradeoff.
Compared to the Polycom phones, the Yealink has a lower quality when it comes to voice. However, some features that the Yealink SIP series does have is a 7-inch touch screen, built-in WIFI and Bluetooth, and HD video.
Wireless phones
In addition to standard wired desk phones, Coeo also offers wireless phones that can be purchased alongside your UCaaS solution. These wireless phones can help you work more efficiently and allows you to take your work mobile.
Polycom VVX D230
Since the Polycom D230 phone is a part of the VVX series, it shares a lot of the same features that the regular VVX phones have. The D230 phone can have up to eight simultaneous calls on one line.
This feature is good if you are a busy salesperson who receives hundreds of calls per day. Another feature of the D230 is the one-touch speed dial and redial function which allows you to make calls quickly.
Polycom Rove
The Polycom Rove phone is another wireless handset similar to the D230. One feature of the Rove is the built-in Bluetooth function which allows you to communicate hands-free while a Bluetooth device is paired.
Another feature that sets the Polycom Rove apart is the IP65 rugged exterior that protects the phone when dropped. This function allows for perfect use in a medical or industrial work environment.
Yealink SIP-W52P
The Yealink SIP-52P is a wireless phone offered by Yealink that is part of the SIP series. This wireless phone shares a lot of the same features the SIP series has such as HD voice packages into a wireless phone.
Conference sound station
In addition to wired desk phones and wireless phones, Coeo offers sound stations that can be used for conference meetings with multiple people.
If your organization has multiple employees in the office, working remotely, or at separate locations, the conference sound station is perfect for bringing everyone together in one room no matter where employees are located.
● Poly Trio series
The Poly Trio series that Coeo offers consists of two different devices, the 8500 and the 8800.
The Trio series comes equipped with integrated Bluetooth, allowing you to dial in on any device, a 5-inch touchscreen, and single-touch meeting launch capabilities.
All of these features and more make it much more efficient to join conference meetings with employees working in multiple locations.
Yealink CP965, CP935, and CP925
The Yealink conference phones come equipped with multiple microphones ranging from 6 microphones to 13 for the highest model. These conference phones have a 6-foot to 12-foot voice pickup range.
Which phones are best for your needs?
Coeo offers various phone options to customers and while it may be overwhelming at first to figure out which phones to use, if any at all, we want to give you some insight on the phones you should use for your specific needs.
If you want to go with the least expensive option, you can choose to have no phones and rely on softphones such as desktops and cell phones. While this is a money-saving option, it is not always the most efficient option.
If your company focuses on cold-calling or sales calls or your employees are on the phone for much of the workday, you may want to use the desk phone options. If a touchscreen is something important to you or your employees, maybe the CCX series is the best phone for your organization.
Wireless phones could be good for your organization if your employees work remotely or outside of the office. The Rove phone specifically, could be good to use in more physical work environments such as a hospital or industrial work environment.
The conference sound stations are good devices to have if your company regularly hosts team calls with employees that work in different locations. This can allow everyone to hear through one device no matter where you are without the frustration of echoing.
Next steps to purchasing your UCaaS service
Now you know the phones that Coeo offers that can be paired with your UCaaS service. This will help you make a decision on which phone(s) to use if you decide to purchase Coeo's UCaaS service.
Coeo has sold and deployed various types of phones to customers and wants to make sure you have all the information you need to make the best decision for your company. Making sure our customers choose the best services and products for their company is our top priority.
If you would like to speak with our team to learn more about phones and UCaaS or ask any questions you may have you can schedule an appointment.
Read these articles below to learn more about UCaaS:
When he's not creating content for Coeo, Jordan loves to watch sports, hang out with friends and family, and anything sneaker-related.