Improvements in Technology Help EPAY Systems, Inc Increase Service Reliability While Positively Impacting Their Bottom Line
EPAY Systems, Inc is an organization that provides a wide range of human capital management services ranging from hiring and onboarding employees to accurately recording employees' time and running payroll. Founded in 2001, EPAY serves more than 500 medium and large organizations who, collectively, have employees working at more than 170,000 sites around the world.

Many of the services that EPAY provides are time-sensitive and require the coordination of the customer, third-party service providers, and a range of financial institutions responsible for the seamless transfer of funds to ensure timely and secure transactions. High-quality technology partners are critical to their success.
The Challenge
As EPAY's business became larger and the services they provided became more complex, the company was faced with three technology challenges that prevented the company from delivering the highest quality services to their customers. These challenges also were having an effect on EPAY's ability to positively impact their bottom line.

First, as part of its value proposition, EPAY was committed to having support services available to assist its customers' supervisors with any questions they had pertaining to properly administering their human resources policies and ensuring the timely and accurate delivery of payroll. And driven by a client base with employees all over the world, they needed to have a customer service organization that was available 24/7.

In EPAY's early growth stage, their India-based customer support organization used a variety of voice providers to meet this global need. As demand grew, EPAY was faced with some technology issues that challenged their ability to deliver the timely and consistent quality that their customers expected. Too often, the India infrastructure was unstable and the quality of the connection frustrated customers leading them to have the perception that EPAY's high-quality service organization was actually inferior to the rest of the delivery they were receiving from EPAY.

Second, an important component of EPAY's solution is the utilization of time clocks that are located at their customers' work sites and capture when employees at that site arrive at and depart from work. When the time clocks captured this data, they utilized dial-up modems to feed the data back to the system which served as a repository before the data was processed. Because this process was inefficient and occasionally unreliable, EPAY wanted to improve efficiency by adding the ability to use a fax line to send data and traffic to their servers.

For sites that employed a more limited number of employees, EPAY utilized an IVR system that was a generic, off-the-shelf product and was limited in its capabilities and less reliable than customers expected. When the system did not perform as expected, capturing the data was time consuming and often led to timing challenges in feeding the data into a payroll system.

Finally, as EPAY's service offering grew and they entered the Human Capital Management business, they were required to process payroll for a large number of customers and based on the nature of payroll processing, the execution of this had to take place during relatively small windows of time. These narrow windows put significant stress on the bandwidth at EPAY's headquarters where payroll was processed and required EPAY to utilize headcount to monitor systems to ensure payroll delivery.
The Solution
Being faced with these challenges, Rick Labus, EPAY's CIO, began to explore ways to deliver a more consistent and reliable infrastructure to meet both their growth challenges and the expectations that their customers had for EPAY. With a vision for how he thought his organization could execute to better serve their growing customer-base, Rick talked to a variety of telecommunications service providers to see who had a similar vision and who he believed could deliver on the challenges that their current structure was causing.
With the assistance of Coeo Solutions, EPAY made the following changes to address the three challenges mentioned above.
First, EPAY utilized Coeo to build a more reliable and stable global infrastructure for their support center. To do this, Coeo provided MPLS for the underlying data infrastructure and provided hosted UCaaS for EPAY's telephony and conferencing needs.
Second, to address the challenges facing the time clocks and the IVR system, Coeo built a modem bank to support this effort and ensure payroll accuracy. To improve the IVR platform, Coeo built an IP gateway on the back of the IVR platform to better handle all 800 phone traffic, allowing employees of their customers to use the platform to punch in and out of their work shift from any location that they were assigned.
To address the third and final challenge regarding limited bandwidth to process large amounts of payroll in a short window of time, Coeo upgraded EPAY's broadband capacity and implemented monitoring capabilities to enable processors to focus on the value-added portions of their jobs without having to spend their time monitoring the capacity challenges that previously existed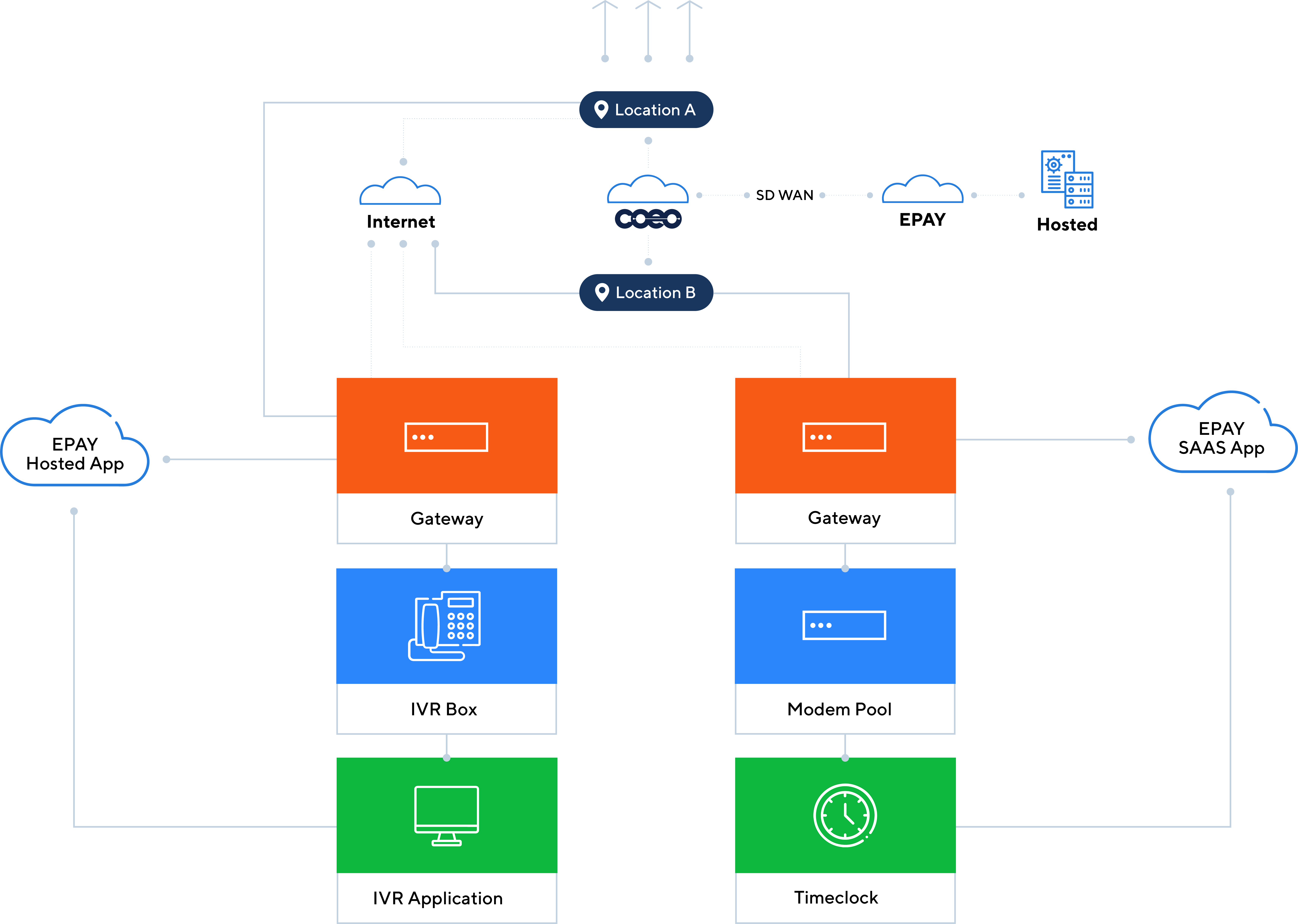 The Results
As a result of these changes, telecommunications uptime has improved to a rounding error less than 100% and is no longer an issue that Mr. Labus and his team worry about. Importantly, EPAY's customer satisfaction numbers have improved significantly and remain at a high level. Further, by consolidating these services through Coeo Solutions, EPAY has lowered their cost structure by nearly 40% resulting in a meaningful improvement to their profit margin.
When asked about his decision to evolve their telecommunications technology to the Coeo platform, Mr. Labus stated, "Coeo understood our vision and worked with us to deliver a series of technologies that ensures that we can deliver the highest level of quality services to our customers and our employees. They know what technology best addresses specific needs and are always with us to address any changes we have in our business environment."
Postscript: After EPAY worked with Coeo to implement a better environment to meet their growing customer needs, no one envisioned the changes to the workplace that were to come as a result of Covid19. Fortunately, the technology that was put in place to meet the original business needs also enabled EPAY's own workforce to adjust to the pandemic environment that caused most of their employees worldwide, to work from home. The hosted VOIP environment that enables EPAY to deliver consistent, reliable service from their various locations enables them to provide the same great service regardless of where their employees are at any given time or day and enables those employees to work collaboratively from many remote locations.
Get in touch at 844.300.2636(COEO)